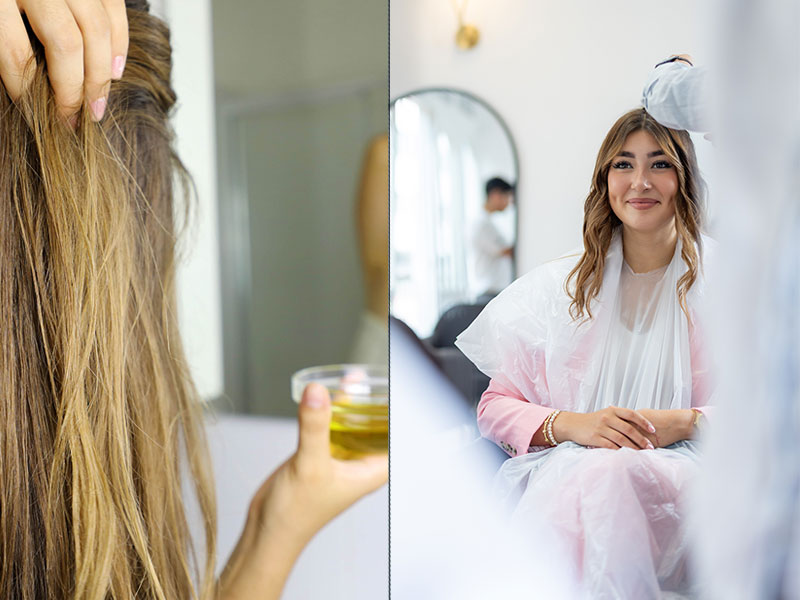 Salon vs DIY – When to Seek Professional Hair Services
October 26, 2023
In today's world, hair loss is not just a medical concern but also an emotional one. A full head of hair often represents health, youth, and confidence. So, when clumps of hair start to fall, it's not just our scalp that feels it – our self-esteem does too. Hair loss, however mild or severe, can deeply impact an individual's self-image. While most perceive it as an inevitable part of aging, the science behind hair loss reveals a far more complex story. Before diving into the causes and solutions, it's crucial to understand the very anatomy and lifecycle of our hair – because therein lies the first clue.
The Hair Growth Cycle
Every strand on our head has a life story to tell, and it's far more intricate than one might assume. The hair's life begins in a tiny pocket in our skin called a follicle.
Anagen (Growth Phase): This is the phase where our hair is actively growing, and it can last anywhere from 2 to 7 years. At any given time, 85-90% of our hair is happily in the anagen phase.
Catagen (Transition Phase): After the growth spurt comes a short resting period. Lasting only about 2-3 weeks, this is when the hair stops growing but doesn't fall out yet. Only about 1% of our hair is in this phase at any given time.
Telogen (Resting Phase): For the next 2-4 months, the hair takes a breather. It's still attached to the scalp but is no longer growing. Roughly 10-15% of our hair is resting at this stage.
Exogen (Shedding Phase): This is the phase where the hair parts ways with our scalp. On a given day, shedding 50-100 hairs is entirely natural. It's when the shedding exceeds this that we should start paying attention.
Understanding these stages is foundational to comprehending the myriad reasons why hair loss occurs. With this groundwork laid, we can delve deeper into the science of hair loss, its causes, and potential remedies.
Common Causes of Hair Loss
Hair loss isn't a uniform issue; the reasons behind it are as diverse as the people it affects. Understanding the root cause (pun intended!) of hair loss is crucial because the treatments and remedies differ based on the underlying issue. Let's break down some of the most common culprits:
Genetic Factors: Often referred to as male-pattern or female-pattern baldness, this is the most common cause of hair loss. It's a hereditary condition that occurs with aging. Its pattern is predictable, usually receding hairline and bald spots in men and thinning hair along the crown of the scalp in women.
Hormonal Changes: Events like pregnancy, childbirth, menopause, and thyroid imbalances can trigger hair loss. Medical conditions such as polycystic ovary syndrome can also lead to hormonal imbalances, further affecting hair health.
Medical Conditions: The autoimmune condition, alopecia areata, leads to sudden hair loss. Diseases such as lupus and diabetes can also cause hair to fall out. Additionally, any condition that can result in scarring of the scalp (like some forms of lupus) can lead to permanent hair loss in that area.
Medications and Supplements: Some drugs, such as those used for cancer, arthritis, depression, and heart issues, can lead to hair loss as a side effect.
Radiation Therapy: Those undergoing radiation therapy to the head may find their hair not growing back the same way or amount.
Stress: A significant shock or physical trauma can result in a temporary thinning of hair. This includes events such as a big surgery, severe illness, or profound emotional stress.
Hairstyles and Treatments: Excessive hairstyling or hairstyles that pull the hair tight, like cornrows or tight ponytails, can cause a type of hair loss called traction alopecia. Hot oil treatments or perms can also lead to inflammation of hair follicles, causing hair loss.
Poor Diet: A lack of proper nutrition, especially a deficiency in iron or protein, can lead to hair shedding.
Myths and Misconceptions about Hair Loss
Navigating through the sea of information, it's easy to come across misconceptions that can steer you wrong. Let's debunk a few:
"Frequent shampooing causes hair loss." The truth is, shampooing cleans the scalp and has little to do with hair falling out. In fact, keeping the scalp clean prevents hair fall due to infections.
"Wearing hats can make you go bald." Hats off to this myth! Unless you're wearing extremely tight hats that cause traction alopecia, your cap isn't causing any harm.
Understanding the underlying causes and separating fact from fiction is crucial. When armed with the right information, you can make informed choices about your hair health. To read some additional Hair Care Myths, check out the article Hair Care Mythbusters: Debunking 5 Common Hair Misconceptions [link url:/debunking-hair-myths/]
Modern Scientific Solutions to Hair Loss
The battle against hair loss has raged for centuries, but thanks to modern science, we've developed a series of potent weapons that can help regain lost ground (and hair!). Here's a closer look at these contemporary remedies:
Topical Treatments: The over-the-counter solution, Minoxidil, is the superstar here. Available as a liquid or foam, it's one of the few proven remedies that can regrow hair and has been particularly effective in women. There are other topical treatments, too, like solutions that contain ingredients to strengthen and nourish the hair, preventing future loss.
Oral Medications: Finasteride, available under various brand names, is a prescription pill that slows hair loss for many men and can also lead to hair regrowth. However, it's essential to discuss potential side effects with a healthcare provider.
Hair Transplant Surgery: This is the most durable solution for combating hair loss. The process involves removing tiny plugs of hair from areas where it's still growing and placing them in spots that are balding. Modern techniques look more natural than their predecessors and have a high rate of success, but they can be cost-prohibitive for some.
Laser Therapy: This is one of the newer strategies in the fight against hair loss. Red light therapy, often in the form of laser combs and helmets, stimulates epidermal stem cells, promoting hair growth. While research is ongoing, early results show promise.
PRP (Platelet-Rich Plasma) Therapy: A procedure that's gained popularity in recent years, PRP therapy involves drawing a small amount of one's blood, processing it, and then injecting it into the scalp. The growth factors in the blood stimulate hair growth, and while results can vary, many find it effective.
Natural Remedies and Supplements: While modern treatments have their place, never underestimate the power of nature. Supplements like biotin and Saw palmetto, or natural oils like rosemary and pumpkin seed oil, have shown potential in promoting hair growth and health.
In the evolving landscape of hair care, it's incredible to see the strides made in treating hair loss. With such a variety of solutions available, it's more than likely you'll find one that fits your needs and circumstances.
Choosing the Right Treatment
Navigating the landscape of hair loss solutions can be overwhelming. From a plethora of treatments to varying costs and efficacy rates, the decision-making process can be daunting. Yet, making an informed choice is crucial.
It's imperative to consult with a professional like myself before embarking on any treatment journey. Not all hair loss is the same, and solutions need to be tailored to the individual. The cause, pattern, and type of hair loss, combined with personal factors like health and age, play a significant role in determining the most effective course of action.
Conclusion
Hair loss can be more than just an aesthetic concern; it often carries emotional weight, impacting self-esteem and confidence. However, with early intervention and the right guidance, its progress can often be halted or even reversed. Don't wait for the situation to escalate. If you or someone you know is experiencing hair loss, take action. The journey to regaining a full head of hair, or at the very least, slowing the loss, begins with a single step: seeking expert advice.
About Trendsetter Hair Clinic
At Trendsetter Hair Clinic, the commitment goes beyond mere treatments. It's about offering comprehensive, science-backed solutions tailored to individual needs. With years of experience, training, and a deep understanding of the intricacies of hair, I am dedicated to assisting those grappling with hair loss, helping them reclaim not just their hair, but their confidence and self-worth.