Contact Us
At Trendsetter we value your time and want to ensure you get our undivided attention; as such making an appointment prior to visiting is of utmost importance. Making an appointment is easy! Simply call or email us.
Please be aware there will be a 50% Cancellation Fee for missed and no show appointments.
The Salon is Closed from December 26, 2023 to January 9, 2024. We hope you have a safe and happy holiday!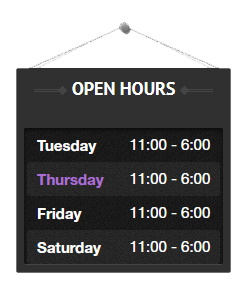 Great salon. I've had a great experience with Paulette who is very kind and knowledgeable. I have had many keratin treatments done over the last 4 years and very happy with the outcome.
Paulette has been doing a keratin treatment on my hair for years now and never fails to amaze me! She is attentive and really pays attention to what my hair needs. Paulette is super personable, and I leave feeling confident about my hair. With my hair being the healthiest it's ever been; I hands down recommend her services.
Knowledgeable, talented, professional, personable, and gracious - you will look and feel your best in Paulette's care. She goes out of her way to accommodate you into her busy schedule and once there, she takes the time to know you and advise on what will work best for your hair. You can trust her expert opinion and no doubt, you'll feel her warmth. She is a gem! The whole package. Paulette recommended Brazilian keratin treatment so that the transition between treatments would be easier, e.g., it would gradually fade out without the noticeable line between virgin and treated hair. Therefore, less breakage. The keratin treatment left my hair sleek and shiny and very easy to work with. Styling is simple, fewer passes with the flatiron and it looks and feels so much healthier. I never imagined my hair could look this straight and be so easy to work with. I'm a few months in and it is still wearing nicely with low maintenance. Exactly as suggested. Thank you so much, Paulette!
If I could give Paulette 20 stars, I totally would! She has been so knowledgeable and patient with my unruly hair. It's been a pleasure coming in each time for my dreadlock maintenance. I 100% recommend coming to Trendsetter.
Paulette relaxed my son's hair. She was so kind and wonderful. He really loves his hair and appreciate the advise for the care of his hair. He is a teen and doing it 🙂
I call her the Locs Dr. Amazing!Amazing service. She ticks all the boxes when it comes to premium and excellent service. Extremely knowledgeable. I saw my locs come alive after one session. I would definitely recommend.
Kezziah Phillips
2023-06-23
Oh my gosh! Okay so, obviously the service is great. But when I first came in my hair was super dry and now its so much healthier, all thanks to my dear stylist, Paulette. I cannot begin to explain how much she has helped me. Excellent tips, advice, and service. Five stars 🌟 ⭐ 💫 🌠⭐
Amazing service. Paulette is very knowledgeable, flexible and accommodating. Always willing to work with the client to meet their needs. My hair was very damaged from over processing and she gave me a plan of care to use at home. Together we have managed to get my hair back to health. Would definitely recommend. Just be honest with what you're doing at home so she can properly treat your hair.
Paulette has been doing my hair since I arrived in Kingston. As a professional African-American woman it's essential my hair is on-point. Paulette ensures my hair is healthy and well-styled.
Aleisha Roussel
2023-05-13
Always a good experience! Paullette is amazing at what she does. Never have left disappointed 🙂